I was given the opportunity to spend two weeks in New York City, house and cat sitting.  So, during my stay, I walked the streets of downtown, midtown, and uptown looking at the many small businesses in search of marketing ideas. New York City is home to thousands of one-of-a-kind restaurants and shops, and as I passed some of them, I began to wonder…
With so much competition, what do these business owners do to stand out? What's their secret?
Here are three marketing secrets I uncovered from talking with business owners. (These are great ideas we can steal.)
Take advantage of Word-of-Mouth advertising.
With sites like Zagat, Yelp and Tripadvisor, word-of-mouth reviews of your business can mean the difference between someone stepping over the threshold or walking past the storefront.  Many of the business owners I spoke with posted information about their ranking on these sites right on their front windows. And during the sale process, their staff mentioned the site and encouraged patrons to rank them.  The websites I mention above also rank high with search engines, and are more likely to have their pages show up first in search results, which is another reason to build your presence on them.
When using these sites, however, do not submit reviews on your own or ask your staff to do so. This goes without saying but it's important to mention, because it could cost a great deal of money in fines. (Read Fake reviews fined, PR firms beware.)

For restaurants, I learned about a tactic called Seamless.  It's a delivery website where patrons can order from a restaurant and have the food delivered. For a city as busy as New York, this is a luxury for residents.  But, there's another way this helps.  A restaurant operator I interviewed said she uses Seamless in her neighborhood, and it has introduced her to many restaurants she probably wouldn't have tried.  Here's why… she said if she sees a restaurant is empty, she wont' go in, but that isn't an option on Seamless. She said she's tried restaurants on Seamless and loved the food, without knowing whether there were people in the store or not.  Seamless also has their own marketing budget, so becoming a member provides the added advantage of the Seamless big marketing dollars.
For Word-of-Mouth advertising to work, we must offer service and products worth talking about.  This requires employee training and offering consistent service delivery and high product quality.  (Read The importance of employee development.) Manhattan business owners seem to focus on quality from the first impression, all the way to the close of the sale. Greeters are polished and friendly, and extremely helpful. Sales consultants offer ideas and information about other products that might be of interest (and they do this in a very non-invasive way.)
Collaborate with other small businesses.
I came across quite a few small businesses that offered discounts or coupons to other businesses as a thank-you for shopping.  Here's how it worked… The owners formed a marketing network of small businesses that complemented each other and targeted the general same audience.   We have shared about this idea before in a past post, Use Pinterest to create a local shopping plaza.  Using this strategy, we are pushing business to our network and they are in turn pushing business our way.
Here's another idea along the lines of collaboration… One site called Manhattan Sideways, shares about all the fun things to do on the side streets of Manhattan.  The company's writers post reviews and ideas about secret places and hidden treasures.  The marketing is key here. As a viewer, we feel like we're uncovering a secret, something only the locals know. This same concept will work in any town.
Grow your walk-in business with front door marketing.
I uncovered several interesting tactics while walking the busy streets of New York. Nearly every restaurant posted their menu outside. Many restaurants and retail shops had someone right on the street inviting in passersby, with some offering samples and same-day discounts as incentives.  For the most part, the greeters were friendly and the tactic worked, I visited several businesses I probably would have otherwise walked past.  One restaurant operator shared with me that their greeters bring in an average of 10 patrons per hour on a busy night and 5 on slower nights.  With the average table spending $75 – $100.00, that seemed like a lucrative tactic to me. The key with this tactic is having the right person out front.
Another tactic I noticed was signage used at the front of the business. Treat this space the same as curb appeal when selling a home. Many businesses used front window space as creative ad space or display space. Many also used tasteful sidewalk, stand up signs, like the one pictured below, to draw in visitors.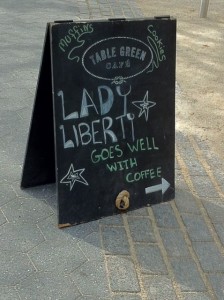 When using front door signage, like the one shown here, focus on your marketing message. This business painted a picture for us. We were near the Statue of Liberty and it was windy and chilly outside.  A nice cup of coffee made the experience awesome. Other ideas for this signage space include touting a recent accolade or award, highlighting a same-day special, or showcasing a new product.
Want to learn how to apply these ideas to your business? Sign up for a free 30-minute consultation.
Posted first on www.mymarketingcafe.com.  Jo Lynn Deal is an integrated marketing communications strategist and founder of myMarketing Cafe.  She is a contributing author for some of the largest publications in the industry including, Social Media Today, PR News, Project Eve, The Business Journal, and The Examiner.