Baby Items
[grabpress_video guid="d4d1099ff0ecd6efddfc3b801741547a14c81a3a"]
It can be overwhelming to walk into a specialty store, or even down the baby aisle at your local retailer and see all of the things/ Baby Items that a baby might need. If you're creating a registry, you probably want to fill it with things you'll actually use and not a lot of fluff items that might just get used once or twice. Here are seven things that you can definitely leave off the registry.
1. Diaper Wipes Warmer
This is an item that many new parents think they need, but it's really not worth the money. When you are in the swing of parenting your baby, having warm wipes will likely be the last thing on your mind. Unless you are keeping your baby wipes in the refrigerator, they are just fine without a warmer.
2. Car Seat Stroller Travel System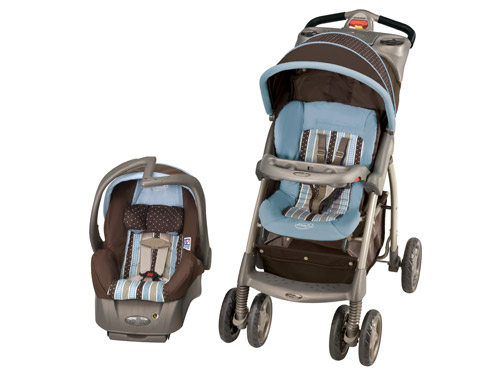 This is one that I go back and forth about – because I used one with all three of my kids. Looking back, I think there are pros and cons to this particular item. It's great because you can transport a sleeping baby without waking her up, unbuckling, etc. It's great because it fits into the stroller, and is easy to transport from car to car – just buy an extra base or use it without one. The cons to this setup is that most babies will outgrow the car seat portion, either by weight or length, well before they are ready to be forward facing in the car, which leaves parents having to buy another seat. Plus, the travel system seat can get really heavy to carry around as baby grows! A good alternative would be to purchase a convertible car seat that can be used from birth to 100 pounds, and a separate stroller.
3. Baby Food Maker
If you really want to make your own baby food, it can be done with a blender or food processor you already have at home. Which incidentally, leads to the next item on the list…
4. Store Bought Jarred Baby Food
Don't waste money on the expensive jars of baby food in your supermarket. You can make your own healthy baby food at home, store it in the freezer, and save lots of money by doing this. Plus, you know exactly what the ingredients are, and can create your own food blends. There is a gold mine of info on the Internet that tells you exactly how it's done.
5. "Baby" Laundry Detergent
Again, this is one that's nice to have but not a need. It smells great, and works great, but it's kind of a pain to have to separate all of baby's things from the rest of the laundry. A mild, dye and fragrance free detergent will get the job done, and you won't have to do separate loads.
6. Baby Shoes
Since babies can't walk, you really don't need to spend tons of money on those baby Nike's. They might be really cute, but they are not needed. You won't actually need shoes for your baby until around one year old when it's time to start walking.
7. Changing Table
Most of the time, this ends up being an unnecessary purchase. Opt instead for placing a changing pad on top of a dresser. As baby gets bigger, you will probably end up changing him on the bed or even on the floor a lot of the time.
As you can see – there are a lot of things out there on the market that really aren't needed. You can also borrow some larger items like swings, jumpers, or big toys from other parents to see if your child really will use them before shelling out big bucks to purchase them. Don't get overwhelmed at all the products. Just focus on the basics and you'll be fine!