If you're puzzled about how to determine the content and issues your target audience wants from you, you're not alone.
Are you good at spotting trends? Do you have a forward-thinking vision? Do you outpace your competition in identifying hot topics and ideas within your niche?
Sure you can watch trending websites.
But consider these eight ways to help you create fresh content that people will be clamoring for.
Pay attention to Google Instant.

This is an autocomplete algorithm that is based on popular search queries by other users. Watch the phrases that appear in the drop-down box when you type the first few letters of your query. Here's an example from

Searchengineland.com: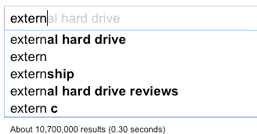 Look at webinar topics and conference registration sites

. These are two strong sources for timely content as they address challenges and issues that professionals in your field want to learn.

Examine transcripts from Twitter chats.

These records offer a plethora of information on specific topics. It will be easy to find out the obstacles that are front of mind in your niche market.

Review your Analytics daily.

WordPress and Google are among the platforms that can supply plenty of details about how traffic has arrived on

your blog

or website (search engines and referrals) along with pageviews, unique visitors, and more. Both 

tools

also give you the keywords or phrases that people typed in their searches. Hint: These words and phrases are their challenges. This is your content.

Become part of your customer's network.

The website

Predictocracy.org

explains, "You can discover what they (customers)  want and what they are passionate about in online forums, social networking sites such as Facebook and Twitter, and also video hosting sites such as YouTube and MetaCafe. All these online networking and discussion sites can give you great ideas on how to predict and ride the next big trend."

Subscribe to HARO.

Help A Reporter Out is a free repository that connects media outlets and authors with sources and experts. With a simple subscription, HARO queries are e-mailed three times a day, Monday-to-Friday. Reporters, producers, and writers have very specific requests as they are planning and producing stories and interviews. Use HARO to monitor what

reporters

are working on.

Ask for help.

Use Survey Monkey or another free tool and pose one or two specific questions to your database about what they would like you to provide. Going straight to the source leaves no room for guesswork.

Examine the comments posted to your blog.

Carefully look for clues in the comments that people have posted. Feedback and insights can help determine what kinds of issues or concerns readers have. It's likely there are lots of hints.
Have you tried any of these tools? Any suggestions to add to the list?
In the end, the common denominator is relevance.