I've been in a love-hate relationship with Facebook for business since I launched our company's online resource center in July 2012. After paying for advertising to grow our fan base, they added these lovely algorithms that cut viewership of our posts by 90 percent. Since Millennials have said adios to Facebook, it seems changes are coming in an effort to woo advertisers.  Here are two cool things I've found recently.
#1 Facebook has added a new way to add visual calls-to-action to your business page posts, and ultimately drive fans to your content.
Here's how to create a Facebook Business Page Call-to-Action Post. If you haven't already done so, install the Facebook Power Editor. This is a more complex and functional dashboard that allows marketers to be very strategic with Facebook ads, and now even status updates. To get to Power Editor, use the Google Chrome browser to go to this URL: www.facebook.com/ads/manage/powereditor, or you can get there by clicking Power Editor on the left side of your ads manager. It requires the Chrome Web Browser. Don't worry, we are not creating an advertisement.
Use this link to navigate to the power editor. Once there, choose the page for your new post. If your page doesn't appear in the list, add it to the group by selecting the button, Download To Power Editor. In the pop-up, select Pages. In the field marked Page by ID, type your page name. Then click download. The page will be added to your list and a summary of all posts for that page will appear.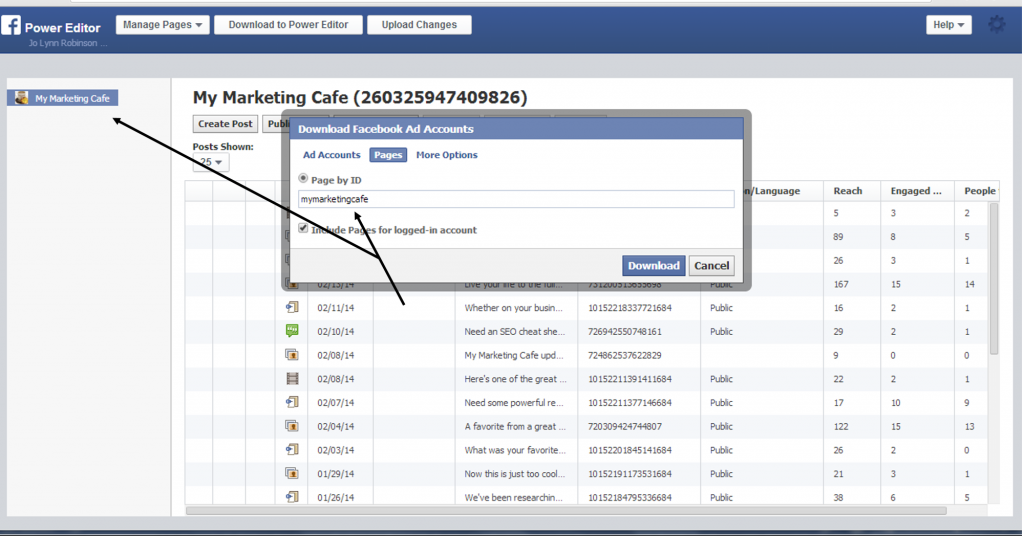 Find the Create Post near the middle of the page. For the myMarketing Cafe post above, we created a Call-to-Action post for a free video tutorial we offer. Here is the information we entered.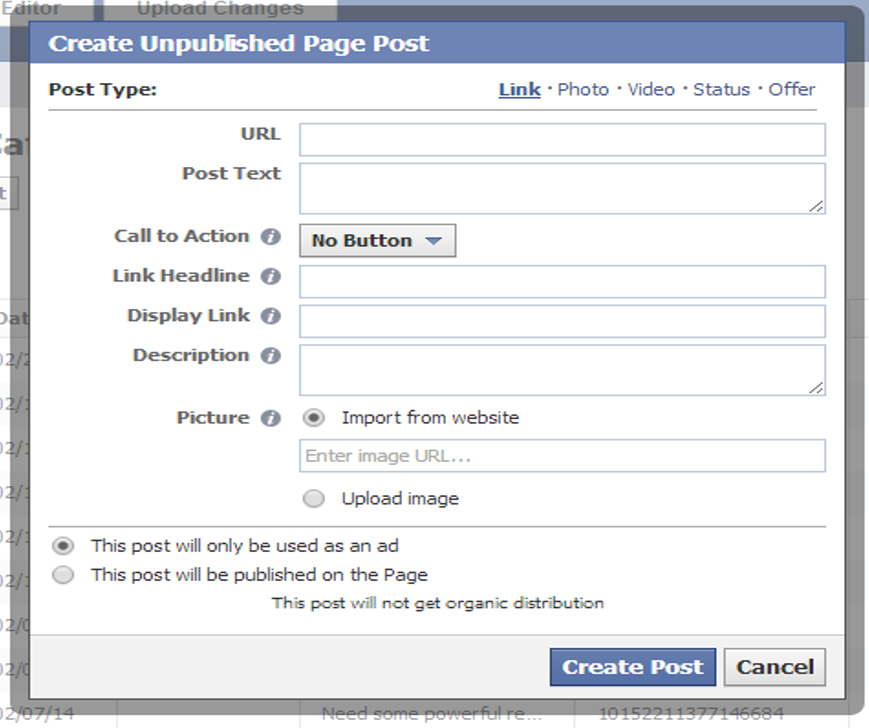 In the field titled URL – We entered the website for the video tutorial on YouTube.
In the field titled Post Text – We entered the status update for the post.
Learn how to create a powerful Inbound Marketing Plan.
Take our FREE tutorial featuring 97 free marketing tools.
In the field titled Call-to-Action – Click on the arrow and choose the most relevant call-to-action. We chose "Learn More".
In the field titled Link Headline – We entered Video Tutorial: How to build a Powerful Marketing Plan. This is the verbiage that appears next to your image.
In the field titled Display Link – We entered our business homepage. This is the link that appears under the link headline.
In the field titled Description – We left this empty, but you can add additional content, like a meta description.
Choose a picture from your website by entering the image URL or upload an image. We uploaded an image. Since this was a presentation originally created in PowerPoint, we chose one of the slides of the presentation, and saved it as a jpeg. We used this for our post image.
We then selected the option, This post will be published on the page.
Click the Create Post button. Your new post will appear at the top of your postings list. The final step is to select the button at the top of the page Upload Changes.
Here's ideas for using this new feature.
Customized call-to-action posts like this can be used with many marketing tactics: offering downloadable content, special event promotions, offering reservations or tickets, and selling products or services. The button options offer a tremendous amount of flexibility.
#2 Facebook is also changing the business page timeline.
Now from your Facebook business page, you will receive easier access to the admin panel, a sharp new design and a new super power. You will be able to size up your competition.  Facebook will roll out redesigned business pages this week.  Learn more in the company blog post. The changes, which apply to Facebook's desktop version, make it easier for users to find information and help page admins find the tools they use most.
How is your business relationship with Facebook? Let's get together in the comments below.
A version of this post first appeared on www.mymarketingcafe.com.