This is part two of a three-part blog, Three important steps to creating your marketing plan.  If you missed step one, here's a quick link to get caught up.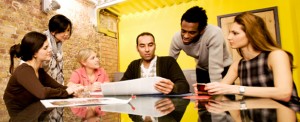 Step two focuses on Employee Development.  I have learned over the years that every employee can make a tremendous contribution to the company's success, and alternatively, any one employee can potentially destroy a company.  (Take a look at how last night a KitchenAid employee affected the KitchenAid brand with a tweet.) We know success is primarily dependent upon the management of the company, those who do the hiring, training, leading, and mentoring.  What has also been proven is that behind great leaders are dedicated employees who make unbelievable contributions to the company.  (Read John C. Maxwell's The 21 Irrefutable Laws of Leadership)
I advise my clients to cultivate their employees as you would a customer, a donor, or business partner.  As a small business owner, you eat, sleep and live your business.  You have to, because everything is riding on its success.  Your employees don't however, and I don't mean that in a bad way. This isn't their pride and joy and lifetime dream. It's most likely a stepping stone to reaching their career goals.  But you, as a leader, can make it valuable for both of you by focusing on employee development.
As a business owner, you have the opportunity to serve as a mentor to your team and build long-term relationships that will help you grow your business.  Recall from part one of this blog how researching your organization, the industry, and your competitors gives you the power of knowledge.  The more you know about the environment you operate in, the better decisions you will be able to make.  The same is true for your employees and is why it is so important to involve them in the planning process.
By involving your employees in the planning process, they learn how important the business is to you and can see how they directly affect your success.  They become deeper engaged in the business and feel appreciated.  Finally, involve them so you can learn from them.  This is a partnership and both parties have a tremendous opportunity to learn. Your employees can be your focus group, your sounding board, and your research assistants.
Out of five companies where I have worked, there was only one company where my boss discussed my future with me and then helped me create a career plan to achieve my goals.  I began as an office assistant but even in this non-management role, I was included in the strategic planning process.  Many of my contributions were used and I know that all were appreciated.  I absolutely loved that job and going forward I have worked to treat everyone on my team the exact same way I was treated.  I saw what that level of leadership and involvement does for an employee's productivity.
So what does all this have to do with marketing?  It's your brand.  Your employees are the business and you are only as good as your weakest employee.  Just how do your employees affect your business?  Ask John Hopkins School of Medicine how one employee's misbehavior (even after hours) had the school facing some tough accusatory questions.  Ask Progressive how one faulty business practice caused a client's loved one to launch a viral smear campaign that led the Progressive communications department backtracking with no hope of undoing the damage.
These companies aren't going to go out of business over these two incidents, but they could have been avoided if their employees were deeply engaged in the marketing planning process and understood how they impact the business.  Think this isn't marketing?  It is.  It's what other people are saying about your business, which is ten times more valuable than what you say about it.
So, last week you were to go on an information-gathering expedition.  I hope you involved your employees in this process but if you didn't, take time this week to go over what you have found with your employees.  Together, write a list of your strengths, weaknesses, opportunities and threats.  When looking at these areas, also write down ways you can capitalize on your strengths and opportunities and ways you could address your company weaknesses and threats.  This information will be used to create tactics in your marketing plan.
Next week, we will begin the path of Charting your Course. See you then!