Susan Young is the President of Get in Front Communications, Inc. She's a social media, news, PR, and communications professional.
In 2011, she was named one of the '75 Badass Women on Twitter.'
Susan works with college students and businesses to integrate social media and business skills to achieve communication, sales, and leadership success. She also works with people who want to improve their communication skills and self-confidence—the cornerstones of success.
Susan provides consulting, training, and coaching to businesses and professionals. She also speaks at conferences and workshops on social media, strategic relationship selling, content marketing, news curation, PR, interpersonal communication, leadership and Emotional Intelligence.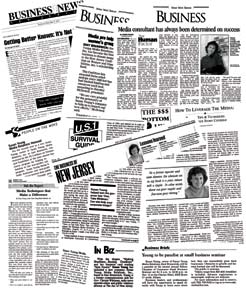 Susan has been in the news and communications industry for 26 years. She is an award-winning radio news director, reporter and on-air anchor. She also served as Deputy Director of New Jersey Governor Christie Whitman's Office of Radio and Television. In addition, she was PR director of a statewide non-profit. Her company is 12 years old.
From 2010-2012, Susan worked as the Managing Editor of Ragan's HR Communication, a nationally published daily e-newsletter on human resources, recruitment, social media and leadership. She's a Contributor to Ragan's PR Daily.
Susan is a certified practitioner in Neurolinguistic Programming (NLP). She has been honored as "Entrepreneur of the Year" by the Edison, NJ Chamber of Commerce.
Her book is titled Communicating with Confidence: Tips & Techniques for Powerful Business Communication.
Susan is a native of New Jersey. She and her husband, and their two children, now live in San Antonio, TX.
7 things that aren't on Susan's résumé: 
Middle child, without the syndrome.
Skateboarded in an earlier life.
Chocolate fiend.
Best accomplishments to date: children, Stephanie and Danny.
Loves the beach and ocean.
Favorite books include Jonathan Livingston Seagull and Eat, Pray, Love.
The Verrazano Bridge that connects Staten Island, NY to Brooklyn, NY, is a favorite spot.
She has been interviewed and featured in these news outlets:
The Wall Street Journal This Morning
San Antonio Business Journal
San Antonio Express-News
Choice magazine
Professional Insurance Agents (PIA) magazine
PRSA Tactics (Public Relations Society of America)
US 1 newspaper
NJBiz
The Star Ledger
The Home News Tribune
WomensBiz.us
The Courier News
News 12 NJ
KSAT TV
KENS 5 TV
The Princeton (NJ) Business Journal- columnist for several years
Volunteer and community service:
Member of Executive Board-Associated Press, NJ Bureau
Member of Community Advisory Board, Gallo Prostate Cancer Center at The Cancer Institute of NJ
Member of The Alamo Community Colleges' Foundation Board