With advertising agencies being able to reach millions of people since the invention of the radio, ads have become more effective and even able to shape our culture. The following advertisements are a few masterpieces from the last century.
Metro Trains: Dumb Ways to Die
There are few countries in the world that haven't seen these cute, ridiculous characters. It started out as a YouTube video and song on iTunes to bring awareness to the dangers of train platforms. Their main goal being to avoid the darkness of the subject. Its YouTube video has over 100 million views, the song instantly reached the top 10 in iTunes, which led to toys, educational books and #1 ranking apps. This award winning advertisement is not only worldwide, but has decreased metro accidents by 21%.
Dos Equis: Most Interesting Man in the World
image credit: zippykid.netdna-cdn.com
"I don't always drink beer, but when I do, I prefer Dos Equis… stay thirsty, my friends…" This phrase has become a classic. There were numerous commercials starring the most interesting man in the world doing impossible and pretty much godly acts or even giving advice on dating. His catchphrase became a meme and I am pretty sure I will tell my grandchildren about him one day. At the time imported beer to America had dropped 4% but Heineken's sales in America rose 22%.
Save the Children: 1 sec a day film

This is the most successful campaign so far from Save the Children foundation which means quite a bit because they have come out with many very successful advertisements. It depicts how London would be if it was in the same situation as Syria. You follow the story of a little girl going from her ideal London life to living on a battlefield, this video is one of the most powerful out there today. It has over 50 million views and save the children's youtube subscription has increased by over 1000%.
Absolut Vodka
This was a 25 year campaign containing 1500 different advertisements all centered around a single bottle. Absolut showed that you can make something that is boring, interesting if you tell its story clever enough. They went from taking up 2.5% of the vodka market to selling the equivalent of half of America's imported vodka per year.
Miller Lite
Miller Coors (Miller Brewing then) created the market for lite beer. They had to overcome the difficulties in the market at the time that said "real men did not drink lite beer" and "lite beer could never taste good". So they took very masculine men and had them say it tasted good. Very straightforward but it paved the way to a very large market still thriving today.
Marlboro Man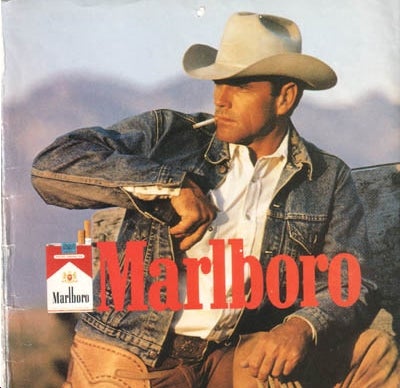 A real man, a free man, living out on the open range. The cigarette company created a lifestyle to describe its product that appealed to many men in the American market. The Marlboro Man is one of the most memorable faces in advertisements from the American 1900's and Marlboro is still the most common and expensive cigarettes.
Got Milk?
image credit: eonline.com
Researches say that this slogan has 90% awareness in the United States. In short, if you speak english and live in America, you have heard this. It is the most widely spread slogan for a product in American history and it was not aimed at getting more people to drink milk. The purpose of this ad was to get people who bought milk to buy more milk. So if you are advertising, think what you might be able to do to get your customers to buy more.
De Beers
In America today if you ask a woman to marry you and don't present her with a diamond ring, she may say yes but then she'll make you go and buy a ring. This all started because one phrase in 1947, "a diamond is forever". Now if you don't buy a diamond ring it means you won't love her forever. This company's evil charts are up there with Marlboro but they made a product thought to be only for the super rich, a must have that regular people will go in debt to get.
Budweiser:"Truth" or Wasssup!
Near the turn of the century, Super Bowl commercials were a reason to watch the game even for people who did not enjoy Football. The commercials now are complete crap in comparison but at least we will still have the classics like this one. Parodies of this ad are still made to this day. This advertisement was almost dead before it began because it was too "urban", but the chief creative officer held his ground and admonished opponents for their racist comments.
Red Bull Stratos
Red Bull is known throughout the world for sponsoring sports events. They are a company of doing, not saying. They continue this mindset with their "mission to the edge of space". On this mission, Felix Baumgartner skydived 24 miles and broke 5 world records. Red Bull has created a culture of doers that buy their energy drinks. The Stratos project is their largest and most famous event but it is not unique. To Red Bull marketing is an action, not an advertisement.
A creative campaign can create a huge positive impact on your business and brand. Often amateurish approach to set up and run a advertising campaign prove counter productive. if you are serious about your ad campaign and produce positive result, you may be better advised to leave these task to a professional advertising agency.