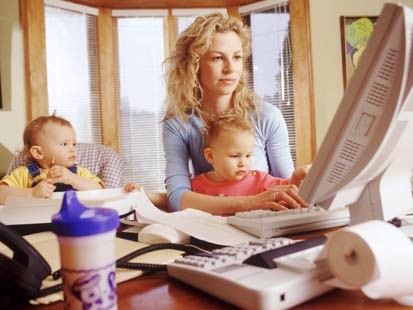 Many studies have shown that switching to telecommuting instead of working at the office can increase productivity on its own. However, when working at home, you are battling with a new set of responsibilities. Working outside of the office comes with many potential distractions that are not present in the office. Here are four tips for increasing your productivity when telecommuting and keeping your work on track when working from home.
Create a workspace for yourself
When working from home, distractions are all around you. This is especially true if you have a family. Finding a room where you can set up your workspace is crucial. You can go to your work room and close the door, which will let your family know that you are busy. This will keep the distractions at bay as well. Set yourself up with a comfortable chair, a nice spot for your computer and whatever else you need to work from home productively. Make sure that your line with the office is strong. There are free services like Skype that can keep you in touch with your coworkers, but if you are looking for a more secure and reliable solution, check with your local vendors to look into more professional options.
Make a schedule
Just because you are at home, doesn't mean that you shouldn't adhere to a schedule. Make one and stick to it. Not making a schedule will usually end up in a lot of wasted time, which can make you spend more time at your computer than you really need to. Set a work schedule for yourself and keep it so that you can have enough free time for other, non-work-related activities in your life.
Stay healthy
Working at home could make you lazy. It can also make it easy to forget about keeping a healthy diet and living a healthier lifestyle. Make sure that you are eating well and that you are not wandering to the fridge and kitchen every half hour for an unhealthy snack. Also, make sure to schedule exercise into your daily routine. Even if you don't have time for the gym, set aside an hour to get out of the house and walk around the neighborhood every day. Eating right and exercising will help you to be more focused when working, which will lead to increased productivity.
Limit time spent on social networks
No one is monitoring your computer at home, but that doesn't mean that you should have your Facebook page open in one tab of your browser all day. Make a schedule and set aside 10-15 minutes every two hours or so during which you will be able to unwind and check out your social networks and personal email.
Share small business news, blogs and social media tips with Project Eve's community of small business owners and entrepreneurs today. Our contributors come from a wide range of backgrounds; so whether you are a small business owner, social media strategist, financial adviser, serial entrepreneur, or write an amateur blog we urge you to contribute a blog to our 500,000+ community today. For more information, please refer to our Content Submissions Guidelines.