Working Moms and Stress
I had a recent tipping point. It was on a snowy Sunday last winter and my husband spent six hours snow blowing the driveway. Six hours of the 24 hours, the kids are awake the whole weekend. And I realized: We need to hire this out. We need Dad back in the winter.
I ultimately found a plow guy and while my husband was reluctant to spend the money, he later admitted it was the best decision we made all winter.
Here's the thing. We working parents are at max capacity. We work and have limited time to spend time with our children, but also have 1001 tasks to do at the same time. According to a 2014 Care.com survey, 80 percent of working moms feel stressed about getting everything done. And one in four cry alone at least once a week. Where's the balance? There is none. Our workplace expert at Care.com calls it "works place integration" instead. But with the average person spending 80 hours a week on chores, childcare, and housekeeping and let's say (only) 40 hours working, that's not leaving much time to breathe. Or sleep.
We need to outsource. We need to shift the weight of being the "default parent" and "default housekeeper" to those around us. Assign the kids more chores. Ask your partner for help in specific areas. Lean on friends, neighbors, parents. And give yourself a break from being perfect, on doing everything. TK% of us said we won't ask for help because we feel guilt was not doing it all. That's very real. I can identify. But it sounds insane when we hear it aloud, right?!
It's funny. Working moms said they'd be willing to hire a personal assistant if they could spend about $203 a week. And they would spend $202 on a full-time nanny. While this won't cover the real cost of full-time help, it will certainly cover some of it.
Contributed by Katie Bugbee, Care.com Global Parenting Expert & Senior Managing Editor
The national average for a housekeeper is $15.71. Take $50 and get a deep clean every once in a while. The average rate for a sitter at Care.com is $11.49. Even if you don't hire someone to go on a date night (which you should!), hire someone to take care of one child, and let you have 1-on-1 time with another. Perhaps you hire someone so you can go to the gym once a week. Or to go out with your girlfriends. These little things can put the integration or balance back in the equation – so we're not just running ourselves into the ground.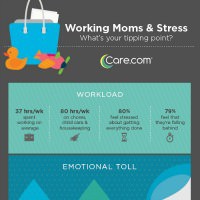 Share your top parenting tips, blogs, and ideas. Parenting is hard, join in to celebrate and commiserate your parenting triumphs and failures along with Project Eve Mom's community of mom and dads looking to make parenting easier. today.